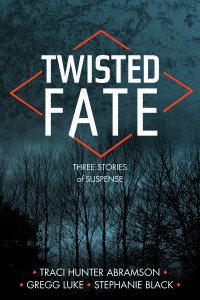 Covenant Communications, 2014
BACK TEASER:
Prepare for thrills and chills as three acclaimed authors unite in Twisted Fate, a spine-tingling collection of stories.
Hunted by Traci Hunter Abramson. The cabin in the woods holds horrifying secrets, and young Reagan has simply seen too much…
Haunting Reminders by Stephanie Black. Jamie has had years to get over her broken engagement. But when her former fiance and his wife become the victims of a vicious stalker, all eyes turn to Jamie…
The Death House by Gregg Luke
Even those who know its real name call it the Death House. But the abandoned mansion, site of a grisly murder a century ago, beckons Adam. And when the force of his obsession drives him to embark on a late-night investigation of the property, he is horrified by what he discovers. Something deadly lurks inside, and nobody in its path is safe.
REVIEWS:
Death House was very interesting–I've read a lot of Gregg Luke's works, but never a YA story from him. I thought it was fabulous! It was creepy, entertaining, haunting, yet fun. The secret took me by surprise. –Amazon Reviewer
AUTHOR'S NOTES:
This was an interesting project; but one in which I had a lot of fun. The thinkers at Covenant Communications had a great idea to have their three best suspense writers each do a novella they could combine into an anthology. That way, fans of Traci Abramson will get to know Gregg Luke and Stephanie Black, and so forth. The big challenge for me was writing something that would not pale in comparison to my coauthors' brilliant work. Originally, they asked us to each write a Halloween story, but months later (after I had completed my novella, of course) they decided Halloween was too seasonal, and they wanted this book to be appealing throughout the year. So they asked us to remove all references to Halloween (again, after I had completed my novella, of course). Luckily, Stephanie's didn't have a lot of Halloween in it, so it was fairly easy to take the few references out.  Traci's had a major event centered around a costume party, so she couldn't really change hers much. Mine had an event centered around October 31st, but not necessarily about Halloween. So I changed the date to Friday the 13th, another famously foreboding date. But because it was originally set on Halloween, a time of fun and spooky frivolity, I gave it a YA tone with lots of teenage humor. It's a bit of a departure from my regular stuff, but it still has a number of thrills and scarey moments. Oh, FYI: the legends about the Shivwits and the origin of the Paiute people are real. Enjoy!