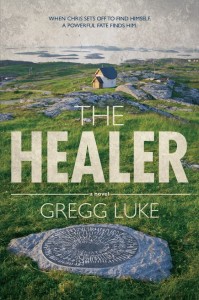 Covenant Communications, 2015
BACK TEASER:
After successfully completing his first-year professorship, Welsh folk-lore expert Chris Pendragon has earned a vacation. At least that's what the young scholar tells himself–but deep down, he fells an urgency to reassess his life, to find a sense of purpose. Hoping that perhaps a trip to Wales will provide him the answers he seeks, Chris embarks on a journey of self-discovery. He could never have anticipated the unimaginable adventure that awaits him…
Shortly after his arrival in Wales, Chris is witness to a horrific accident with more far-reaching consequences than he could have dreamed. Following his heroic rescue of one of the victims, an unexplainable phenomenon is revealed: bones that had been broken were made whole with Chris's touch. Still reeling from this discovery, Chris is approached by a wizened old man with an implausible answer: Chris has been chosen to be the bearer of the Dial, a healer of unparalleled power. But the calling is fraught with peril, and Chris soon discovers there are those who will stop at nothing to seize the power of the Dial. With the help of a beautiful, if skeptical, doctor, Chris must choose: go back to the life he was leading, or embark on a thrilling new destiny…
REVIEWS:
The Healer is a tale so excellently woven that the reader has difficulty discerning where myth and legend stop, and where truth begins. How many strands of folklore were interlaced to create the stunning literary braid? Was it four? Five? More?
Completely fixated by the skillful telling, I found myself experiencing every emotion of the protagonist—the self-doubt which sprang up again and again with each of his set-backs; his internal struggle to choose between facts and faith, logic and belief; the intensely sincere compassion that he had for his fellowman . . . all the while being ferried back and forth across the idyllic countryside of Wales.
If you are looking for a story that will bolster your faith in humanity and convince you that miracles really do happen . . . perhaps even a story that will change you . . . then this is the book. –Daron Fraley, author of Thirty-six
Shrouded in mystery and steeped in ancient legends, the misty hills of Wales are the perfect backdrop for this gripping story of trust and betrayal, discovery and loss. Once again, Gregg Luke has delivered a captivating novel filled with enough suspense to keep readers turning pages long into the night. –Sian Ann Bessey, author of The Insider
The Healer grips you from the first page and doesn't stop until the end! The last few chapters were icing on the cake. 5 starts out of 5. –Mindy Holt, LDS Women's Book Review
AUTHOR'S NOTES:
I have always wanted to write a novel about someone with the power to heal, but each premise I played with seemed too fanciful. I wanted something with more depth. Then author Daren Fraley brainstormed a brilliant proposal. A while back he came up with the idea to novelize the Jewish legend of the Lamed Vovniks. (The premise of the legend is that there are at least thirty-six righteous men at any given time with enough compassion to stay the Lord from destroying the Earth.) Daren began the series by recruiting fellow authors to write stories that linked a relic from the Old Testament with one of the gifts of the Spirit. His pilot book, Thirty-Six, was released in 2012. He asked me to tackle the gift of healing (go figure) and the story quickly came to life from there. To find out more about the series, go to www.lamed-vav.com. My heartfelt thank goes out to him and his project.
Usually, my love of a novel comes from researching the medicine and science that forms the backbone of the story. The big difference in The Healer is that, instead of pharmacology, I delved into Welsh legends and stories in the Old and New Testaments. Then I blended them together in a tale that unfolds as one mystery leads to another, until all evidence points to the protagonist becoming legend himself. There were so many fun legends and facts that I soon became aware that many readers might feel I was simply making them up. So I asked my editor to be sure to include a reference page at the back of the book, so those interested can look them up for themselves.
Oh, and the audio on this one is astounding. Mega-talent Jason Tatum reads this one for me and is absolutely brilliant in his delivery of the multiple accents found in this story. He knocks this one out of the park! You gotta listen to it!