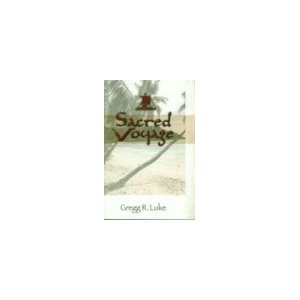 Aspen Books, 2004
BACK TEASER:
Gideon, a young man whose family business is ship building, accidentally witnessed a murder and is now being chased by the ones who did it.
Overnight, his family's house is destroyed and his parents are taken prisoner. Now he must rescue his parents by entering the stronghold of the very men who are trying to kill him.
In his plight, Gideon is befriended by Helorum, an elderly patriarch of the Church who aids him in his quest. Gideon learns from the old man that life is filled with obstacles which we must rise above to see the eternal aspect of what we experience.
While planning the rescue, Gideon meets Elsha, a young woman whose father is also being held by the King Men. Together they share a white-knuckled adventure of narrow escapes, political intrigue, and unexpected romance.
REVIEWS:
Sacred Voyage is engaging from the start. I was held captive…waiting to see what happened next. -Diane Spransy, Salt Lake City, UT
AUTHOR'S NOTES:
This was my first published novel. I will always be grateful to the people at Aspen Books for giving me the chance to put my story into book form for others to read and enjoy.
Now, having said that, I suggest you DO NOT purchase this book. It was put out during the last days of the publisher's existence. Unbeknownst to me, the staff had been culled to just one or two people, and the book was quickly typeset and sent to the printer without any proofreading by an editor or by me. As a result this novel is one of the worst productions I've ever seen. I've counted over 150 typos, grammatical mistakes, and spelling errors. Even my name is spelled wrong on the copyright page. Ugh! (Don't even get me started on the quickie snapshot they used for my author photo! Hideous!) The only time I received a royalty check from them was after my lawyer sent them a strongly-worded letter. After that–zilch, nada, nothing–which put them in breech of contract. Therefore, I ask that no one buy this novel, even though it is still a great story.
I have talked with my current publisher about reissuing the story under their imprint. We're still negotiating. Hopefully, I can bring this intriguing story to my readers in the future. I'll keep you posted.