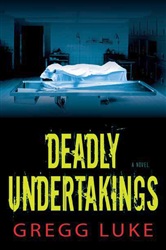 Covenant Communications, 2012.
BACK TEASER:
Being an assistant to the state medical examiner in Salt Lake City might sound like a dead-end job, but Rebekah Smith loves the mystery and challenge of determining the cause of death in the bodies delivered to their morgue. Tutored by her friend and boss, Dr. Sandeep Mahesh, she gains understanding not only for her job but also for how to mask her own troubled past.
While analyzing the corpse of a one-hundred-yearold woman, Rebekah discovers some disturbing elements: not only was the deceased woman a healthy centenarian, but she was also embalmed before anyone discovered she'd passed away. When two identical cases surface, Rebekah enlists the help of her boyfriend, special investigations officer Josh Logan. Together they uncover shocking truths about the bizarre deaths that eventually lead them to a nightmarish revelation they weren't prepared for. Yet unknowingly, the more they reveal, the closer they come to being the killer's next guinea pigs.
REVIEWS:
Gregg Luke's vivid imagination has resulted in his most twisted, creepy, and agonizingly intense novel yet! –Brooke Ballard, CPhT
Deadly Undertakings suggests some interesting and disturbing concepts in our battle with aging, all wrapped up in a compelling and satisfying whodunit. –Jonathan Koehler, MD, clinical pathologist.
I love how Gregg Luke gets into the minds of all the characters: the heroine, hero, and the twisted, psychotic criminal. –Teri Harman, KSL Book review
Deadly Undertakings is an exciting piece of fiction. Satisfying and well-though out. –Shelby Scoffield, Deseret News Book review
Deadly Undertakings should be on the reading list for anyone who enjoys good fiction, who loves a good story, and who wants to watch a great storyteller at work. –Jeffrey Needle, Association for Mormon Letters
Readers will read this one with white knuckles firmly clutching the pages. –Jennie Hansen, author and book reviewer for Meridian Magazine.
AUTHOR'S NOTES:
The premise for this novel came from research done while writing Bloodborne. The villain in Bloodborne had some specific beliefs about the properties of the different blood types; A, B, O, AB, positive, negative, etc. But they didn't really fit into the story. So I chopped out nearly fifty pages and saved them for Deadly Undertakings–which goes to show no writing is wasted (even if you never use it). I had the backbone for this novel completely thought out before I started writing it. And when I started, boy, did it flow. As usual, I did a ton of research for this novel, but the story itself came very smoothly. You'll learn more about blood in this book than you ever knew before.
An interesting production note: usually, authors get very little input on the cover art/design. Having had several well-received novels through Covenant gives me a little more clout, which I used on this cover. The original design was a close up image of the back of a hearse. It was cool but it didn't jump from the page, and was even a bit confusing. Forget the fact that a hearse is never mentioned in the book. So I kicked and whined, and suggested a picture of an autopsy room. Boy, am I glad I did! The designers at Covenant came back with the uber-creepy cover you see above. It is nothing short of perfect. I LOVE it!
Deadly Undertakings was a Whitney Award finalist and a Best of State nominee for 2012. Both are great honors.