Covenant Communications, 2011
BACK TEASER:
One ordinary afternoon, research specialist Dr. Erin Cross steps into a local deli to get some lunch and nearly takes a bullet instead. Thanks to timely intervention from a former Marine, she walks away from the seemingly freak incident. But when she returns to find her lab under security lockdown and her apartment ransacked, she realizes the attack was anything but random. Erin can't make sense of the threat, given her low profile after a disastrous H1N1 vaccine trial. She doesn't know that her former colleague has used the virus to develop a potent bioweapon or that her recent research holds a key to his success. And she doesn't know that his collaborators want her dead before she blows the whistle.
Fleeing for safety with her research in hand, Erin unravels the threats with help from the timely Marine, former Special Ops agent Sean Flannery. But the closer they come to finding answers, the more questionable Sean's behavior becomes. His erratic moods and suspicious communications are more fitting for an enemy than a friend. And as the crisis comes to a head, Erin can't be sure who harbors more secrets—the bioterrorists pursuing her or the one man who can give her protection.
REVIEWS:
Bloodborne is classic Gregg Luke–sinister motives, gripping suspense, and intricate detail. His pacing will leave you breathless. –Josi Kilpack, author of the Sadie Hoffmiller Culinary Mystery Series and Utah Best of State Fiction winner.
Bloodborne is a spellbinding, action-packed story with dynamic characters and an intriguing plot. –Erin Klinger, author of Between the Lines.
Already an acclaimed writer of medical suspense, this novel places Luke among the top writers in this field. –Jennie Hansen, Meridian Magazine.
The scariest part is the realism. That this type of thing could happen … is completely nerve-wracking. Bloodborne will keep your heart pounding. –Star Crossed Book Reviews.
If you like the TV show CSI, you ares sure to love Gregg Luke's Bloodborne. –Latter-Day Woman Magazine.
AUTHOR'S NOTES:
I did more research for this novel than any other to date. First, I had to create a plausible virus that a could be transmitted via mosquitos. Second, I needed a place in which to test said virus without the possibility of it spreading beyond controls. So I did a ton of reading on H1N1, and even took a trip to the Yucatan during the Swine Flu pandemic of 2010. Then I started Internet surfing looking for an island remote enough to have a small, isolated population but large enough to have a lake. The results are in Bloodborne. I also wanted to write a novel that was incredibly fast-paced. I didn't want to give the reader a chance to catch a breath. That's very hard to do when giving back story and exposition. So during those scenes I incorporated elements of mystery and intrigue. In all, this was a very fun novel to write.
I was honored to have this book features in a book tour. I had more reviews on Bloodborne than on any other book to date. Luckily, most were favorable. It seems every reader can pick out one or two little things that irked them. Heck, I do it too. But the overall consensus was very good.
All of my novels through Covenant have had audio versions done. The readers they have are excellent. But I have to say, I enjoy the audio of Bloodborne the most. Luone Ingram is amazing! She nails the Latin, chemistry, and biology, and completely hits the Hawaiian Pidgin out of the park.
This book was my fourth to become a Whitney Award finalist and was a nominee for the Utah Best of State Fiction award. It also won Best Cover in the Suspense category by LDS Publisher.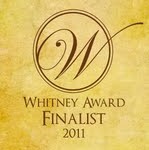 BOOK TRAILER: