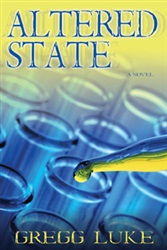 Covenant Communications, 2009
BACK TEASER:
Homer and Morgan Winegar believe they may have finally found happiness in the quiet college town in which they have settled. Perhaps now in their new life together with Morgan's nine-year-old son, they can each leave a troubled past behind. But when Morgan's psychology students begin exhibiting bizarre behavior, the couple quickly becomes entangled in an experiment headed for catastrophe. Someone is illegally administering a mind-altering drug to unwitting students. With the potential for millions of dollars in profits on the line, the pharmaceutical designers are more than willing to set aside morals to test the limits of the subconscious and mind control. As the growing ranks of test subjects fulfill increasingly disturbing commands, Homer and Morgan race to discover who's pulling the strings—and how they are doing it. But as the final stages of research point to a deadly calamity, events from the past threaten to shatter the couple's fragile trust—just as they need it most. Will they be able to overcome the forces that threaten to pull them apart and find a way to stop the impending tragedy?
REVIEWS:
A masterpiece of pharmaceutical knowledge, diabolical ambition, and well-developed characters. –Betsy Brannon Green, best-selling author of the Haggerty Mystery Series.
Inescapably compelling, medically accurate, and disturbingly plausible. Yet amongst the rich science speaks a wonderful message that human trust is perhaps the most cherished gift we can give one another. –Aaron Jones, MD, FAAFP
I had a hard time putting this book down. The story flies. –Karen Hamilton, Mormon Times.
What a great, creepy plot! –Stephanie Black, four-time Whitney Award winning author.
AUTHOR'S NOTES:
This novel is one of my favorites, mostly because of the medicines and science involved. I wanted to write about addictions and how they can influence control over the mind, body, and emotions. To do so I had to come up with a drug that had a specific mechanism of action. I used a known chemical THIQ and combined it with my own chemical SPAAM. Honestly, I don't know if they would create the effects they did in my story, but at least they were plausible. To trigger a response to the chemical cocktail I used a subliminal auditory stimulus–a message of command hidden in a song played on a local radio station. Another trait brought up in the story is Asperger's Syndrome–a form of autism. A big chuck of the information on that was obtained from Tracy Winegar, mother of two autistic children, a wonderful author, and a great friend.
Most reviews of this novel included comments on the over-use of chemical terms and physiology. That's okay. I tried to disseminate the information through a non-science-oriented character, but I didn't want to simplify it too much. Being a huge Michael Crichton fan (miss him), I love putting tons of credible science in my work. Apparently, enough readers liked it enough that it became a finalist for a Whitney Award. I was very honored.