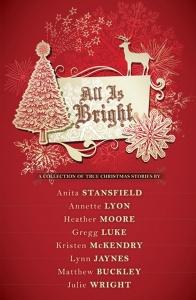 Covenant Communications, 2009.
BACK TEASER:
A joyous reminder about the true meaning of Christmas, these eight real-life holiday stories illustrate how ordinary people's lives are often touched in the most extraordinary ways. Keep the storytelling tradition alive in your family with these wonderful true holiday treats that will resonate year after year as they remind you and your loved ones of the true meaning of the season.
AUTHOR'S NOTES:
This is a fun little collection of true Christmas stories. I was flattered–and a little mystified–when Covenant asked me to join ranks with literary masters Anita Stansfield, Annette Lyon, and Heather Moore; not to mention Kristen McKendry, Julie wright, and Matthew Buckley. They said, "Gregg, we want you to write a true-life story for a Christmas anthology." To which I said, "Guys, I write thrillers about human trafficking, deadly viruses, and mind-altering drugs. You want something like that for Christmas?" They said, "Not really. We just like the way you tell a story." Um … thanks?
In the end, I got permission to use a wonderfully moving story my bishop (at the time) shared with me. John Davidson grew up in rural Wyoming on a large ranch. Everyone in town knew his dad because he was the bishop and he owned and ran the local mercantile. The day before Christmas–when John was about four or five–their largest barn burned down, killing most of their livestock and much of their winter hay. The way the community rallied together is heartwarming and meaningful. My sincere thanks goes out to my good friend John Davidson and his family for allowing me to shape their story with my words.